Sustainability Data Analyst
FrieslandCampina is committed to offer the best nutrition to its consumers while creating minimal environmental impact, and has set out an ambitious sustainability strategy Nourishing a Better Planet; we want to become the most sustainable dairy company in the world. To achieve this goal we have been working on environmental impact of all parts of our production chain for many years. The recent evolution of digital and data tools and technologies, provides us with exciting new opportunities to accurately measure, monitor and act on our environmental impact. We are looking for a Sustainability Data analyst to work at the confluence of these two very important areas of Digital and Sustainability, and support us in moving faster towards a more Sustainable future.
Sustainability Data Analyst
What we ask
Academic degree in business, information technology or sciences / technology
5-10 Years' of (ideally FMCG) industry work experience in a sustainability-relevant business domain such as finance, supply chain or procurement
Track record of delivering data and analytics solutions to internal clients is a must have
Experienced in agile way of working (Scrum or Kanban)
Experience in working with SQL databases, data wrangling, and dashboarding in self-service BI is highly desirable
Knowledge of data warehousing and data modeling is a nice to have
A continuous improvement, and equally importantly a continuous learning mindset – as the tool landscape in Digital evolves considerably with time
Excellent stakeholder management capabilities, including good communication and presentation skills
What we offer
Opportunity to step into Sustainability and Digital, topics that are fast-evolving and priorities for our business
Exposure to senior stakeholders, and opportunity to address strategic business issues across Business Groups and functions in FrieslandCampina
Learning opportunities, and growth on Digital and/or Sustainability career paths
Opportunity to contribute to a more sustainable future for our business and society
A highly skilled, ambitious and fun team, who values change and sees opportunities
Competitive salary and benefits
Hybrid and flexible way of working
Vacancy description
As a Sustainability Data Analyst, you will be a spider in the web, and work with Corporate Sustainability, Digital R&D, Finance and IT to realize FrieslandCampina Sustainability reporting and data goals, in line with business needs. You will formally be a part of the Digital R&D team in Wageningen, and will need to tap into the broad digital expertise of the Digital R&D unit, along with IT and its external partners to deliver on your goals.
Your responsibilities will be to:
Work with the Digital R&D team to define sustainability priorities and – reporting requirements and translate them into digital needs
Break down the work defined in epics into features and user stories
In collaboration with relevant functions / domains, Digital R&D and IT identify and access the right data sources
Work with the Digital R&D team to prototype sustainability solutions and showcase them to stakeholders
Stay up-to-date on the evolving landscape of sustainability standards and digital tools, invest in learning some of the relevant tools
Provide input into overall sustainability reporting and data roadmap, and contribute to embedding sustainability digital and data tools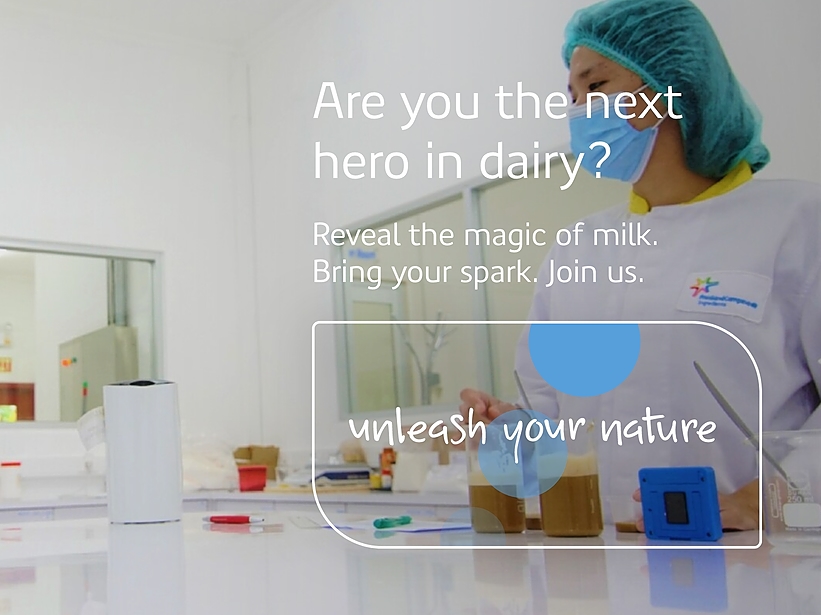 Digital R&D team is a compact team of 12 colleagues. Team members have specialized and complementary (digital) skills, and are enthusiastic about bringing positive changes to the FrieslandCampina organization using digital tools and techniques. The team is mainly based in Wageningen Innovation Center at present.
Wageningen
Want to work with colleagues from 32 nationalities in R&D who work together intensively in an inspiring environment? Then here is your opportunity. Our Innovation Centre in Wageningen consists of four parts: a large pilot plant with cooling and storage warehouses and three buildings in which the offices and the strictly hygienic laboratories are housed. Pedestrian bridges and atriums connect the different parts with each other. The centre also includes an experience centre, an innovation kitchen and a test bakery. Here, Consumers, Customers and Employees of FrieslandCampina from all over the world can experience our tasty products. In order to accelerate and strengthen our innovation process, we also work together with innovation partners such as Wageningen University & Research Centre, other knowledge institutes, our member dairy farmers, customers and suppliers in the Innovation Centre.
About our team and office:
A multidisciplinary team — highly skilled, focused on making our best work together
A friendly environment — with wonderful cafeteria, free milk, cheese and Lattiz coffee
Sustainability - BREEAM certified sustainable building & and in view of the rise of electric means of transport, there are charging points for electric cars, scooters and / or bicycles.
About your work-life balance:
The option to work from home — we learned to master Hybrid working
Travel reimbursement — if you don't live around the corner
Learn more about our innovation center here:
https://www.frieslandcampina.com/nl/innovatie/rd-en-innovation-centres/
JOB-ID: 49069 | Sustainability Data Analyst, Netherlands