QA Manager
Royal FrieslandCampina has embarked on an ambitious strategy of 'Our Purpose, Our Plan'. The goal is to win in the market, whereby innovation, technology and digital solutions are the key enablers for our organization to outperform in the market every day.
People all over the world use our products. That means we must deliver the same quality all over the world. To that end, we use quality standards and rules, which apply to all our production and distribution companies, extending to R&D. We are looking for a quality / regulatory professional, with significant experience in the dairy industry, who can ensure that we innovate in compliance with our high food safety and quality standards. However this is not the only facet of this role. We would like that a quality professional with this experience, also helps us in making strategic decisions on our dairy raw materials. So that we deploy the right dairy raw materials to make consistent quality products, and are able to quickly respond to volatile supply raw material situations.
What we ask
You have a Masters / Ph.D. degree, in a relevant area such as Natural Sciences or Technology, for e.g., food science or food technology
10-20 Years of experience in a quality / R&D / regulatory roles in a foods, preferably, in a dairy company
Deep knowledge of EU and Asian food safety and quality standards and regulation
Skills in risk analysis and management, and embedding the relevant standards in company processes
Able to assess way of working of R&D / Innovation processes and empowered to sign off QA documents for R&D products for customers, clinical trials, market research etc. based on HACCP principles
Excellent analytical skills to translate deep dairy knowledge into strategic insights for FrieslandCampina, e.g., on raw materials, products and capabilities
Excellent stakeholder management, communications, training and influencing skills to maintain compliance with or without hierarchical control
Ability to create and maintain a good network of experts in R&D, quality, regulatory and potentially externally at universities, institutes, certification and governmental bodies
What we offer
An inspiring work environment, friendly culture, and opportunities to develop yourself
A hybrid home and office way of working; office location: Innovation Centre Wageningen
You'll be part of a compact but specialized Digital R&D team and a R&D department with world-class dairy knowledge and expertise
Competitive salary and benefits
Opportunity to learn about a broad range of products across Business Groups and improve our standards and processes
Learning opportunities (on job training, conferences, training certifications)
Vacancy description
You will act as an enabling professional, responsible for guiding and overseeing quality and safety in R&D. In addition you will bring your years of experience in quality and dairy products to extract value and synergy out of our dairy raw material portfolio.
You will achieve so by:
Owning the food quality and safety policies, procedures and systems for R&D (including pilot plants) – upgrading them and evolving them in line with our Foqus corporate-quality guidelines, international standards, and business needs
Overseeing product release for internal testing, e.g., sensory, and external testing at third parties such as customers, consumers, and partners
Monitoring, reporting and managing compliance of R&D ways of working with relevance to food safety and quality standards and, nutritional guidelines
Striking the right balance between adhering to non-negotiable rules and creating exploration space for innovation projects, based on pragmatic risk assessments
Use your extensive knowledge of dairy raw materials and products to critically examine and provide guidance on specification needs of FC products and R&D projects
Team up with other dairy experts in the R&D organization, to support more strategic management of dairy raw materials across all business units, e.g., aligned with critical to quality needs, supply trends, portfolio perspective, future needs
Part of the FC QA community and active in Community of Practice teams regarding Food Safety, Allergens, current and emerging contaminants etc..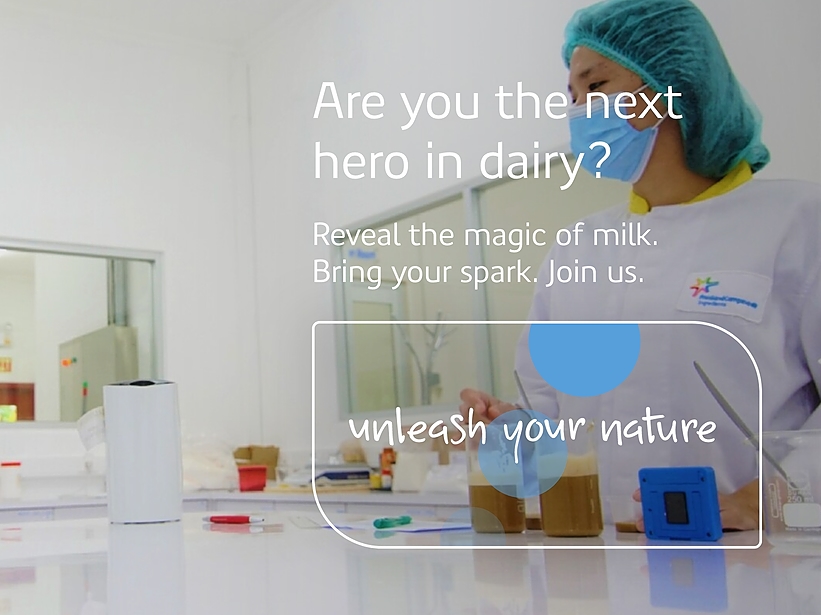 Want to work with colleagues from 32 nationalities in R&D who work together intensively in an inspiring environment ? Then here is your opportunity. Our Innovation Centre in Wageningen consists of four parts: a large pilot plant with cooling and storage warehouses and three buildings in which the offices and the strictly hygienic laboratories are housed. Pedestrian bridges and atriums connect the different parts with each other. The centre also includes an experience centre, an innovation kitchen and a test bakery. Here, Consumers, Customers and Employees of FrieslandCampina from all over the world can experience our tasty products. In order to accelerate and strengthen our innovation process, we also work together with innovation partners such as Wageningen University & Research Centre, other knowledge institutes, our member dairy farmers, customers and suppliers in the Innovation Centre.
You will report in the Digital R&D team. Digital R&D team is a compact team of about 10 individuals. The team works on a broad set of digital topics such as data, analytics, digital systems, capabilities building and knowledge management. The team helps R&D to achieve its compliance, efficiency and value objectives through improvements in capabilities, processes and tools.
About our team and office:
A multidisciplinary team — highly skilled, focused on making our best work together
A friendly environment — with wonderful cafeteria, free milk, cheese and Lattiz coffee
Sustainability - BREEAM certified sustainable building & And in view of the rise of electric means of transport, there are charging points for electric cars, scooters and / or bicycles.
Learn more about our innovation center here
https://www.frieslandcampina.com/nl/innovatie/rd-en-innovation-centres/
JOB-ID: 47165 | QA Manager, Netherlands