Process Development Engineer Food Products
Are you the food processing technologist who gets excited about developing our next generation processes for consumer dairy processing? Please join our Global Process Technology team in Wageningen to make a sustainable impact on the production of our nutritious dairy products.
Process Development Engineer Food Products
What we ask
You have a Master of Science degree in food technology, chemical engineering or (bio)process engineering
You have at least 3 years of experience in (industrial) process development/research in food processing experience (time may include PhD or PDEng experience)
Minimum of 3 years of established experience in the field of homogenisation, emulsions and reology is an advantage
Fundamental understanding in the field of (food) physics
Willingness to occasionally travel nationally and sometimes internationally to production sites, suppliers and partners
Good communication and reporting skills in English and/or Dutch.
We are looking for someone who is result oriented, decisive and has a hands-on mentality. Next to this it is important ifn you are able to share your knowlegde and results of your work with your colleagues and other relevant stakeholders.
You will work in different teams and collaborate with different people. Therefore we are looking for someone who is a teamplayer and has a talent for keeping things in perspective and is structured.
What we offer
• A unique company culture of Dutch heritage and international presence.
• Great work life balance, and competitive salary & benefits package so you can enjoy it.
• Workweek of 32- 38 hours, competitive pension scheme, holiday allowance of 8%, end year allowance 3%, bonus scheme, flexible working hours and the ability to work from home.
• Diverse training and mentoring programs to help you grow on your own professional journey.
• A friendly and informal working environment, yet professional team members as sparring partners.

Vacancy description
As a Process Development Engineer Food Products you will research and develop innovative and safe next-generation processing systems within FrieslandCampina.
You will
• Study the influence of processing on the product's characteristic, quality, and stability
• Prepare the design of experiment and coordinate the execution of the trials/experiments with the involved parties.
• Translate the findings into tangible conclusions.
• Investigate Critical to Quality process parameters with thorough scientific tools and methodologies.
• Present and defend the findings to internal and external relevant (sr.) stakeholders or peers.
• Initiate new process solutions for new and existing products based on your knowledge and network.
• Have open, challenging and strong interaction with relevant product and process technology experts in Friesland Campina R&D and Technology departments.
Typical technologies you will be working with are preservation technologies, homogenization/shear and structuring/texturizing technologies, and fermentation technologies for quark and yoghurt. You will also be working closely together with our preservation and cleaning technology experts.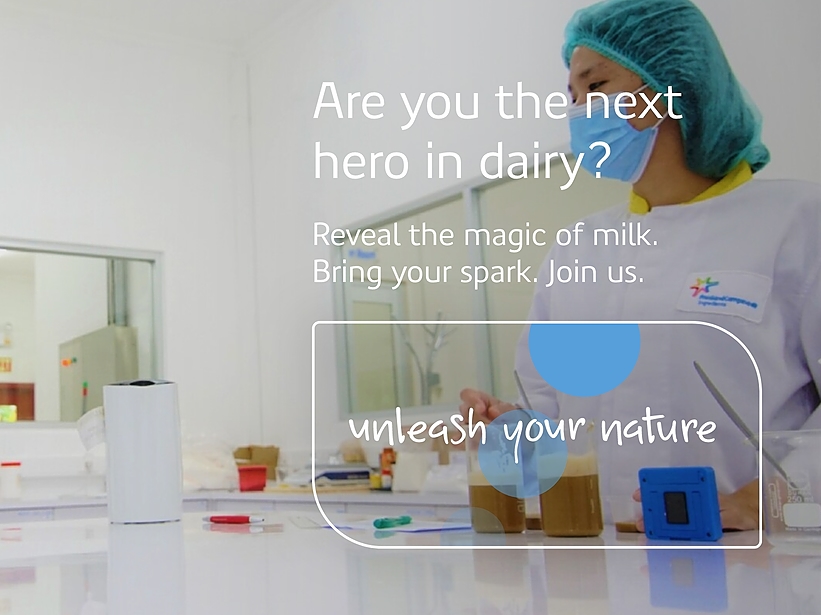 Want to work with colleagues from 32 nationalities in R&D who work together intensively in an inspiring environment? Then here is your opportunity. Our Innovation Centre in Wageningen consists of four parts: a large pilot plant with cooling and storage warehouses and three buildings in which the offices and the strictly hygienic laboratories are housed. Pedestrian bridges and atriums connect the different parts with each other. The centre also includes an experience centre, an innovation kitchen and a test bakery. Here, Consumers, Customers and Employees of FrieslandCampina from all over the world can experience our tasty products. In order to accelerate and strengthen our innovation process, we also work together with innovation partners such as Wageningen University & Research Centre, other knowledge institutes, our member dairy farmers, customers and suppliers in the Innovation Centre.
About our team and office:
A multidisciplinary team — highly skilled, focused on making our best work together
A friendly environment — with wonderful cafeteria, free milk, cheese and Lattiz coffee
Sustainability - BREEAM certified sustainable building & And in view of the rise of electric means of transport, there are charging points for electric cars, scooters and / or bicycles.
About your work-life balance:
The option to work from home — we learned to master Hybrid working
Travel reimbursement — if you don't live around the corner
Learn more about our innovation center here: https://www.frieslandcampina.com/nl/innovatie/rd-en-innovation-centres/
JOB-ID: 47700 | Process Development Engineer Food Products, Netherlands