Procesoperator (2 ploegen)
Om onze Processing afdeling te versterken, zijn we voor onze vestiging in Lummen op zoek naar een Procesoperator in 2 ploegen. In deze functie rapporteer je aan de teamleader Processing en bestaan je hoofdtaken eruit om grondstoffen te ontvangen, recepturen computergestuurd aan te maken in onze mixinstallaties en deze recepturen UHT te behandelen tot een steriel product.
Wil jij ons team versterken?
Op 12 december 2022 om 9u45 en om 18u15 houden bij een jobdag voor Machine Operatoren en Procesoperatoren. Heb jij ook zin om wat meer informatie te krijgen over de functie, een rondleiding te krijgen en eens met een teamleader in gesprek te gaan?
Schrijf je dan in door je CV te mailen* naar merel.vankemenade@frieslandcampina.com
*Inschrijven verplicht
Procesoperator (2 ploegen)
What we ask
• Secundair onderwijs Elektromechanica of gelijkgesteld door ervaring
• Basiskennis PC (MS Office, SAP, OMP, Interspec…)
• Zelfstandig en in team kunnen werken
• Regelmatig tillen van zware lasten
• Inzicht in de algemene werking van de productie-afdelingen
• Kennis van werkvoorschriften i.v.m. veiligheid, kwaliteit, milieu en HACCP
• In het bezit zijn van een brevet heftruckchauffeur of openstaan dit te halen
• Basiskennis Engels (plus basiskennis Duits/Frans
What we offer
• Je werkt in een filevrije omgeving
• Wij bieden een marktconform loon aangevuld met extra-legale voordelen
Maaltijdcheques van 8€

Hospitalisatieverzekering

Groepsverzekering

Sport- en cultuurcheques 50€ netto/jaar

…
• Wij bieden een uitdagende job in een internationaal bedrijf dat sterk inzet op persoonlijke ontwikkeling en groei
Vacancy description
Je ontvangt en stockeert basisgrondstoffen (room, afroom, glucose, fructose, weipoeder, vet en suiker)

Je maakt de bereidingen computergestuurd aan volgens de receptuur die op de vijf verschillende mixinstallaties geprogrammeerd is

Je voert administratieve taken uit (Registratie van CIP's, verbruikte materialen, …)

Je zorgt voor de kwaliteit van de uitgevoerde werkzaamheden en meldt afwijkingen aan je teamleader Processing of rechtstreeks aan 1e laborant

Je volgt zelfstandig de planning op via OMP

Je meldt eventuele problemen / storingen tijdens de bereiding aan de teamleader, je zoekt mee naar de oorzaak van het probleem en maakt notificaties in SAP

Je staat in voor de thermische behandeling van bepaalde grondstoffen

Je neemt stalen na pasteurisatie en volgt de testresultaten van het labo op

Je bedient de verschillende sterilisatoren zodat de producten afgevuld kunnen worden op de verschillende afvullijnen

Je voert reinigingen uit en steriliseert de diverse tanks en mixinstallaties

Je helpt collega's van de recuperatie-afdeling met de herverwerking van producten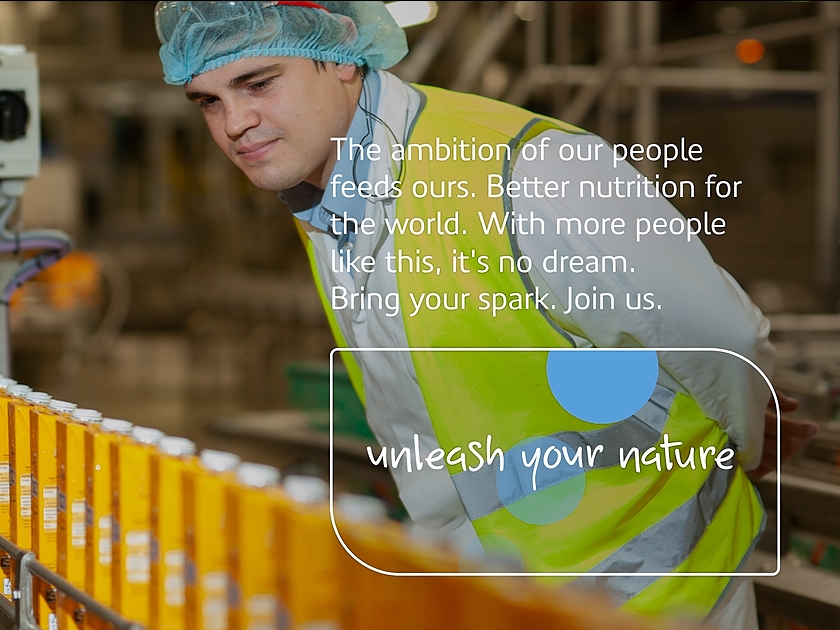 Staying true to who you really are, that is your starting point at FrieslandCampina. Because it is precisely by embracing our differences that we can grow together. We want to create a working environment that allows all employees to bring their best and authentic selves. If who we are suits you, but you're not sure if you're the best fit for the role, we still encourage you to apply so we can help you find the role that fits you best.
FrieslandCampina Belgium Nv ontwikkelt, produceert en commercialiseert een gamma zuivelproducten met toegevoegde waarde, gericht op professionele klanten zoals bakkerijen, fast food ketens, hotels, restaurants, cateringbedrijven en industriële voedingsbedrijven.
Het gamma bestaat uit roomproducten, slagroomspuitbussen, boterspecialiteiten, vullingen, desserts en ijsroom en milkshakemixen. Deze professionele zuivelconcepten worden ruim aangeboden aan veeleisende professionals. Verder is het bedrijf een toonaangevende fabrikant van slagroom in spuitbussen voor de consumentenmarkt.
JOB-ID: 44535 | Procesoperator (2 ploegen), Belgium