Operator Processing 3-ploegenstelsel
Beschrijving

Controleren of de producten beantwoorden aan alle
vooropgestelde specificaties alvorens ze vrij te geven voor afvulling ;
Voorbereiden van chocoladedranken, gefermenteerde melkdranken,
koffiemelk en koffiedranken volgens een afgesproken planning;
Kennis hebben van de bediening van de processen, de machines en de
kwaliteitsprocedures;

Mee instaan voor onderhoud van de apparatuur op de afdeling;
Positief meewerken aan continu verbeteren met WCOM als tool
- Veiligheid: voorschriften van veiligheid, food safety en milieu naleven;
- Je zorgt voor een vlot technisch verloop van onze productie-installaties en staat in voor het oplossen
van storingen alsook uitvoering van technische werkzaamheden aan utility's
- Je voert preventief onderhoud en revisies uit binnen jouw deelgebied waarbij je voorstellen voor
aanpassingen en verbeteringen formuleert
- Je zorgt voor opvolging van acties en voorschriften mbt. veiligheid, food safety, kwaliteit en rendement
en bouwt mee aan de database ivm historiek
Operator Processing 3-ploegenstelsel
What we ask
Technische of

scheikundige

achtergrond (A2-niveau of gelijkwaardig door
ervaring)

PC-kennis

Verantwoordelijkheidszin en in hoge mate zelfstandig kunnen werken

Nauwkeurig kunnen werken en controles correct uitvoeren
- Flexibel en stressbestendig
What we offer
We bieden jou een uitdagende en zeer veelzijdige job in een tof team met mooie verantwoordelijkheden binnen een financieel gezond bedrijf. Je komt terecht in een professionele omgeving met enerzijds de voordelen die een internationale groep te bieden heeft gecombineerd met de voordelen van een lokale onderneming met een open cultuur.
Daarnaast biedt de organisatie een uitdagend loonspakket (inclusief maaltijdscheques), een hospitalisatieverzekering, een groepsverzekering ,extra recuperatiedagen en ruimte voor persoonlijke ontwikkeling, training en opleiding.
Wil je later nog doorgroeien ? Binnen FrieslandCampina begeleiden we je graag binnen je loopbaan om verschillende mogelijkheden te ontdekken!
Vacancy description
Beschrijving

Controleren of de producten beantwoorden aan alle
vooropgestelde specificaties alvorens ze vrij te geven voor afvulling ;
Voorbereiden van chocoladedranken, gefermenteerde melkdranken,
koffiemelk en koffiedranken volgens een afgesproken planning;
Kennis hebben van de bediening van de processen, de machines en de
kwaliteitsprocedures;

Mee instaan voor onderhoud van de apparatuur op de afdeling;
Positief meewerken aan continu verbeteren met WCOM als tool
- Veiligheid: voorschriften van veiligheid, food safety en milieu naleven;
- Je zorgt voor een vlot technisch verloop van onze productie-installaties en staat in voor het oplossen
van storingen alsook uitvoering van technische werkzaamheden aan utility's
- Je voert preventief onderhoud en revisies uit binnen jouw deelgebied waarbij je voorstellen voor
aanpassingen en verbeteringen formuleert
- Je zorgt voor opvolging van acties en voorschriften mbt. veiligheid, food safety, kwaliteit en rendement
en bouwt mee aan de database ivm historiek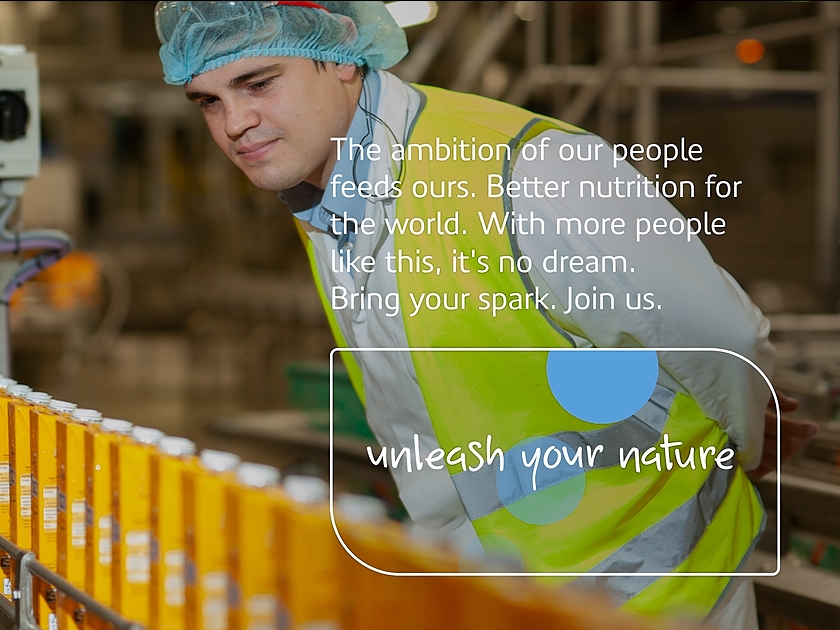 Staying true to who you really are, that is your starting point at FrieslandCampina. Because it is precisely by embracing our differences that we can grow together. We want to create a working environment that allows all employees to bring their best and authentic selves. If who we are suits you, but you're not sure if you're the best fit for the role, we still encourage you to apply so we can help you find the role that fits you best.
JOB-ID: 45553 | Operator Processing 3-ploegenstelsel, Belgium