Digital Communication Specialist
You want to work for an international company and make the difference through effective and engaging digital communication to reach relevant target audiences. You are highly digital savvy and have monitoring and improving as a second nature. Then this is a fantastic opportunity! FrieslandCampina is looking for an experienced Digital Communication Specialist. This position lies within the Global Corporate Communication team in our Amersfoort office (NLD). You will be working in a team that is seeking to reach the next level for communication to play a role as a strategic asset for the company. This role reports to the External Communication Manager and focuses on building and executing an outstanding communication strategy for our external digital channels (70%) and contributing to the development of our internal digital channels (30%).
Digital Communication Specialist
What we ask
Relevant educational background, for example, in Communication/ Marketing/ Branding/ PR.
Excellent communication skills in Dutch and English, both verbal and written.
Minimum of 5 years of relevant work experience.
Excellent knowledge of the external digital communication landscape and its current trends. Social media and websites optimisation should not hide any secrets for you. Strong technical background with advanced computer skill.
Experience with different content management systems (e.g. WordPress and Drupal) and Google Analytics.
Advanced knowledge of social media publishing, campaign planning and content creation for a corporate brand.
Experience with reporting and targeting of social media channels as well as proven channel growth.
Practical knowledge of SEO (and SEA). You should help colleagues on their way to SEO friendly texts.
Good knowledge of the Microsoft and Adobe experience programs and tools, especially of digital communication mediums, such as, Photoshop for content editing, Canva and InShot for content creation, SharePoint as an intranet and Yammer as a social networking tool.
Knowledge of graphic design best practices and principles, and experience working with web/graphic designers and other creative professionals.
A self – starter, organised, innovative, creative and results driven professional, with the ability to perform successfully in a fast paced and ever-changing environment.
Strong interpersonal skills.
Ability to prioritise and multitask when required. Therefore, good project management skills.
Eye for detail and proactive mindset.
What we offer
Working as part of an ambitious international team with a can do mentality.
Lots of learning on the job and personal development.
A broad scope of responsibilities.
Room to propose and implement your own ideas.
A competitive salary based on the weighting of your job, your experience, and your training.
FrieslandCampina does not, however, only compensate its employees with monetary rewards. We also consider it important for our people to continue to learn and grow
Vacancy description
Creating and implementing an external digital communication strategy, in line with the overall communication objectives and the company goals. Having an outside in vision.
Optimising engagement, performance and traffic of the digital communication channels.
Writing content; you know how to play the right strings of our different target groups (and of Google) with strong stories.
Assist in creating and driving the internal strategy of the digital communication channels. The focus lays on SharePoint and Yammer.
Think critically and identify opportunities to help improve strategies to support communication and business objectives. Use A/B tests to adjust your roadmap where needed.
Advise (communication) colleagues and executives on the proper use of our digital channels.
Work closely with our external digital agencies and the IT department of FrieslandCampina.
Manage various big projects.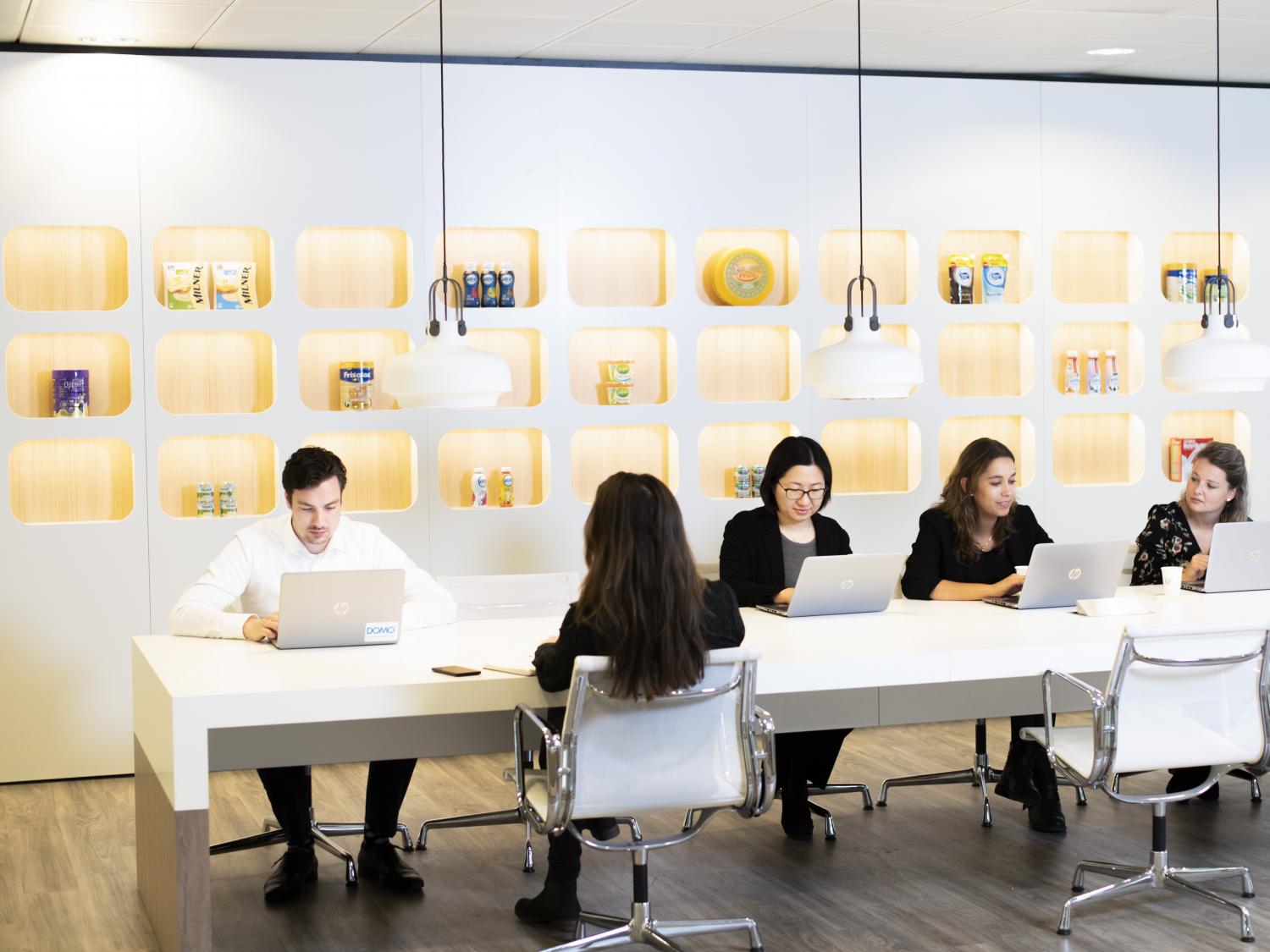 For thousands of people every day, we are more than just a dairy company. To our farmers, our employees, the communities we serve, the businesses we work with and the people to whom we bring happiness, FrieslandCampina means something more. For them it's not just about what we do, but who we are.
We value talented people from any background who want to contribute to something bigger than themselves. We encourage all our employees to make decisions that benefit our entire company. At FrieslandCampina we own our own career and act accordingly. We trust you to make a difference in your job and influence the bigger picture. Working at FrieslandCampina means you are contributing to a better world.
The External Communications team is part of the Global Corporate Communication department. The team consists of a manager external communication, two senior communication specialists, a manager sustainability communication, and an international communication manager based in Singapore.
JOB-ID: 44907 | Digital Communication Specialist, Netherlands