Technology Specialist
Heb jij affiniteit met het continu optimaliseren een productieomgeving? Wil jij een belangrijke rol spelen in het verduurzamen van onze processen? Kennis of ervaring van verpakkingen en/of kaas? Dan zoeken wij jou! Een prachtige plek om ervaring als technoloog op te doen.
What we ask
Om succesvol te zijn in deze rol breng je het volgende mee:
HBO werk- en denkniveau;
Ervaring binnen procestechnologie en/of opleiding verpakkingstechnologie is een pré;
Affiniteit met de levensmiddelen- of procesindustrie, techniek en technische automatisering;
Samenwerkingsgericht, stressbestendig, resultaatgericht, neemt en geeft verantwoordelijkheden en communiceert gemakkelijk op alle niveaus en weet draagvlak te creëren;
Uitstekende beheersing van de Nederlandse en Engelse taal, zowel in woord als in geschrift.
What we offer
Unieke cultuur gezien FrieslandCampina een Nederlandse roots heeft maar inmiddels is uitgegroeid tot een internationale organisatie met vestigingen over de hele wereld;
We bieden een prettige work-life balance, marktconform salaris & goede secundaire voorwaarden (werkweek van 38 uur, eindejaarsvergoeding van 3%, marktconform pensioen, vakantiegeld 8%, flexibele werktijden, mogelijkheid om vanuit huis te werken, bonus);
Diverse trainingen en coaching programma's om je te helpen ontwikkelingen en jouw eigen professionele carrière uit te stippelen;
Interne doorgroei wordt sterk gemotiveerd vanuit FrieslandCampina!
Een informele & vriendelijke werkomgeving waarin je samenwerkt met gedreven en professionele collega's;
We geven je vertrouwen en autonomie om lange termijn impact te genereren dat bijdraagt aan betere voeding voor de wereld;
Vacancy description
Als Junior Procestechnoloog ben je onder andere verantwoordelijk voor:
Het borgen en verbeteren van de sustainability/duurzaamheid;
Het opstellen, implementeren en borgen van nieuwe processen en producten op de verpakkingslijnen;
Het creeren van databases en het analyseren van data om de processen te kunnen optimaliseren;
Het ondersteunen van de productieorganisatie in geval van complexere problemen en faciliteert oorzaak analyses;
Je draait mee als werkstroomleider voor verbeterprocesesn binnen WCOM;
Het voorbereiden van eerste producties en het coördineren van testen.
De vacature van Junior Procestechnoloog is een mooie startersfunctie waarbij je veel kunt leren en tegelijkertijd ervaring op kunt doen in het werkveld.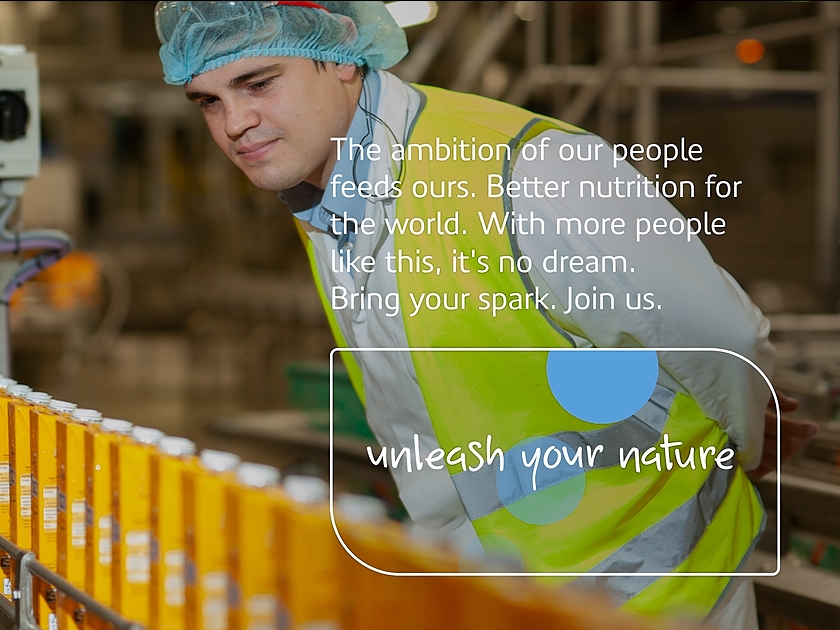 Staying true to who you really are, that is your starting point at FrieslandCampina. Because it is precisely by embracing our differences that we can grow together. We want to create a working environment that allows all employees to bring their best and authentic selves. If who we are suits you, but you're not sure if you're the best fit for the role, we still encourage you to apply so we can help you find the role that fits you best.
Bij FrieslandCampina delen we met ruim 21.000 medewerkers de passie om meer uit melk te halen en om mensen verder te helpen in het leven. Met onze merken, ruim 30, bereiken we miljoenen mensen in meer dan 100 landen.
De locatie Leerdam is onderdeel van de Business Group Food & Beverage en is een verpakkingslocatie voor verschillende kaassoorten. We verpakken met ongeveer 350 collega's kazen in een fabriek die beschikt over de nieuwste technieken, waarbij voldaan moet worden aan de strenge hygiëne-eisen.
Je bent in deze functie onderdeel van het team met 3 procestechnologen.
JOB-ID: 51254 | Technology Specialist, Netherlands