Operator Verpakking 3 ploegen
..Ben jij die Operator Verpakking die we zoeken voor onze fabriek in Maasdam De meeste stappen in ons verwerkingsproces worden uitgevoerd door robots en machines. Jij zorgt ervoor dat deze zo soepel mogelijk draaien. Als er storingen zijn, weet jij ze op te lossen. De fabriek werkt niet zonder jou!
Operator Verpakking 3 ploegen
What we ask
.• Bij voorkeur een afgeronde MBO 2-opleiding of hoger in de richting van procestechniek, techniek, vapro, operator of food. Heb je geen afgeronde aanverwante opleiding maar wel relevante werkervaring, ook jij mag solliciteren;
• Ervaring in het werken met complexe installaties, je bent in staat hier accuraat mee te werken;
• Je werkt altijd veilig en hebt oog voor kwaliteit;
• Je werkt zelfstandig en bent proactief, je bent in staat een positieve bijdrage te leveren aan de sfeer in het team;
• Je beheert de Nederlandse taal uitstekend;
• Je hebt kennis van kwaliteitssystemen en kwaliteitsstandaarden;
• Bereid om te werken in een 3-ploegen rooster;
What we offer
• Deze functie in ingeschaald in Zuivel CAO schaal 4 (€2597 tot €3239 o.b.v. 36uur) je salaris wordt gebaseerd op je ervaring en opleiding;
• Je onvangt een ploegentoeslag bovenop je brutoloon van (ongeveer) gemiddeld 22% per jaar. Deze toeslag is variabel;
• Unieke cultuur gezien FrieslandCampina Nederlandse roots heeft maar inmiddels is uitgegroeid tot een internationale organisatie met vestigingen over de hele wereld;
• We bieden een prettige werk/privé balans, marktconform salaris & goede secundaire voorwaarden zoals een werkweek van 36 uur, vakantiegeld 8%, marktconform pensioen en, 4% eindejaarsuitkering;
• Diverse trainingen en coaching programma's om je te helpen ontwikkelingen en jouw eigen professionele carrière uit te stippelen;
• Interne doorgroei wordt sterk gemotiveerd vanuit FrieslandCampina!
• Een informele & vriendelijke werkomgeving waarin je samenwerkt met gedreven en professionele collega's;
• We geven je vertrouwen en autonomie om lange termijn impact te genereren dat bijdraagt aan betere voeding voor de wereld;
Vacancy description
.
Wat verwachten wij van jou:
Zelfstandig instellen en bedienen van complexe verpakkingsinstallaties met inachtneming van geldende procedures en richtlijnen;
Beheersing van het proces;
Voert zelfstandig klein onderhoud bij storingen en voert periodiek onderhoud uit aan de installaties;
Kan zowel zelfstandig als in het team werken;
Voert met vaste frequenties kwaliteitscontroles uit en leg deze vast;
Draag verantwoordelijkheid voor een optimale output van installaties met inachtneming van geldende veiligheids- en kwaliteitsvoorschriften.
Uiteraard bestaat de functie uit nog meer taken en verantwoordelijkheden, deze vertellen we je graag tijdens een persoonlijkgesprek. Een rondleiding behoort tot de mogelijkheden.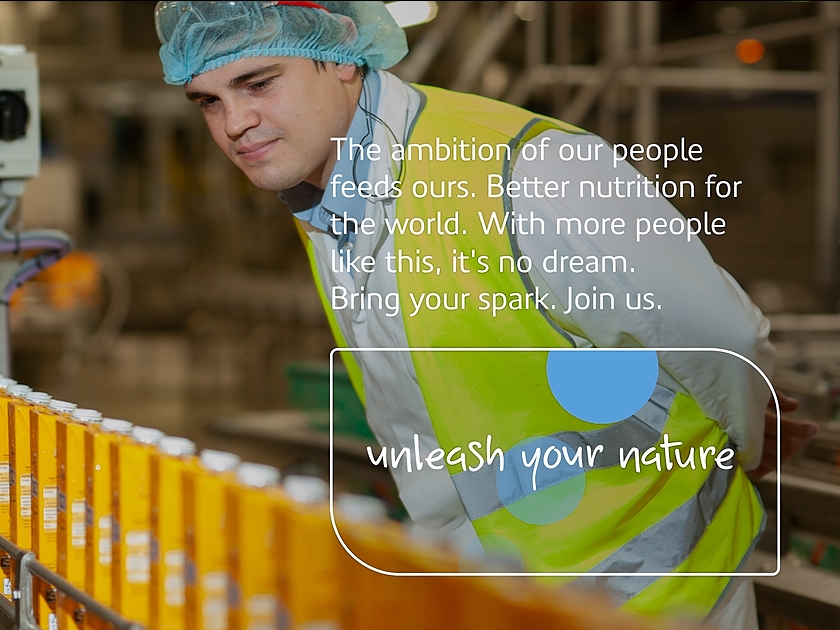 Staying true to who you really are, that is your starting point at FrieslandCampina. Because it is precisely by embracing our differences that we can grow together. We want to create a working environment that allows all employees to bring their best and authentic selves. If who we are suits you, but you're not sure if you're the best fit for the role, we still encourage you to apply so we can help you find the role that fits you best.
Op onze productielocaties in Maasdam en Rotterdam produceren we verschillende vloeibare vers gekoelde zuivelproducten. Dit zijn producten voor merken zoals Campina, Optimel en Vifit die je vast wel in de supermarkt hebt zien staan. Om ervoor te zorgen dat de schappen in de Nederlandse supermarkten vol zijn, verwerken we jaarlijks zo'n 300 miljoen liter zuivel in producten zoals melk, (drink)yoghurt, vla, kwark en pappen. Via ons moderne distributiecentrum gaan onze producten naar supermarketen door heel Nederland en daarbuiten.
JOB-ID: 51022 | Operator Verpakking 3 ploegen, Netherlands