Procesoperator Poeder 5 ploegen
FrieslandCampina Butter & Milkpowder in Lochem is één van de grotere melkverwerkende locaties in Nederland. De locatie produceert boter, boterolie, melkpoeder en melkcomponenten. In de Poeder fabriek is een vacature ontstaan voor een Procesoperator.
Procesoperator Poeder 5 ploegen
What we ask
Een afgeronde mbo4-opleiding, bij voorkeur AOT richting levensmiddelentechnologie. Een VAPRO B/C of een operator B/C opleiding. Heb je geen afgeronde opleiding maar wel relevante werkervaring als procesoperator, dan zien we je sollicitatie graag tegemoet;
Aantoonbare kennis in de zuivelindustrie is gewenst, met name op het gebied van procestechniek;
Bereid om in volcontinudienst te werken (5 ploegen), inclusief feestdagen;
Kennis op het gebied van continu verbeteren is gewenst;
Teamspeler die ook zelfstandig kan werken, met de eigenschappen pro-actief, nauwkeurig en stressbestendig;
What we offer
Deze functie in ingeschaald in Zuivel CAO schaal 5 & 6 (€3591,- tot €4821,- inclusief 28.7 % ploegentoeslag o.b.v. 36uur) je salaris wordt gebaseerd op je ervaring en opleiding;
Unieke cultuur gezien FrieslandCampina Nederlandse roots heeft maar inmiddels is uitgegroeid tot een internationale organisatie met vestigingen over de hele wereld;
We bieden een prettige werk/privé balans, marktconform salaris & goede secundaire voorwaarden zoals een werkweek van 36 uur, vakantiegeld 8%, marktconform pensioen, 4% eindejaarsuitkering;
Diverse trainingen en coaching programma's om je te helpen ontwikkelingen en jouw eigen professionele carrière uit te stippelen;
Interne doorgroei wordt sterk gemotiveerd vanuit FrieslandCampina!
Een informele & vriendelijke werkomgeving waarin je samenwerkt met gedreven en professionele collega's;
We geven je vertrouwen en autonomie om lange termijn impact te genereren dat bijdraagt aan betere voeding voor de wereld;
De mogelijkheid om deel te nemen aan het fietsplan.
Vacancy description
Processen optimaal laten verlopen, dat is waar je goed in bent. Denk daarbij aan geautomatiseerde processen zoals melkstandaardisatie, filtratie, indampen en drogen van diverse melkstromen. In deze functie ben jij verantwoordelijk voor de bediening van de procesapparatuur conform de geldende werk- en productievoorschriften en voer jij procescontrole uit door middel van monstername en analyse en indien noodzakelijk stuur jij het proces bij. Je voorkomt, spoort op en verhelpt (middelgrote) storingen en voert eerstelijns onderhoud uit. Daarnaast assisteer je de Technische Dienst bij grote storingen. De toe- en afvoer van grondstoffen en eindproducten behoort ook tot jouw takenpakket. Alle proces- en kwaliteitsgegevens leg jij vast in ons systeem.

Veiligheid en kwaliteit staan hoog in het vaandel bij FrieslandCampina. Als Operator Processing zorg jij ook dat de installaties, randapparatuur en omgeving worden gereinigd en gedesinfecteerd. Met een scherpe blik signaleer je procesverbeteringen en zet die om in verbetervoorstellen, individueel of in een verbeterteam (WCOM). Ook kan je gevraagd worden om mee te draaien, ook buiten ploegtijden om, in verbeter- en efficiencyprojecten. Strikt als je bent, werk je altijd volgens de wettelijke richtlijnen en voorschriften op het gebied van HACCP, Milieu en Veiligheid.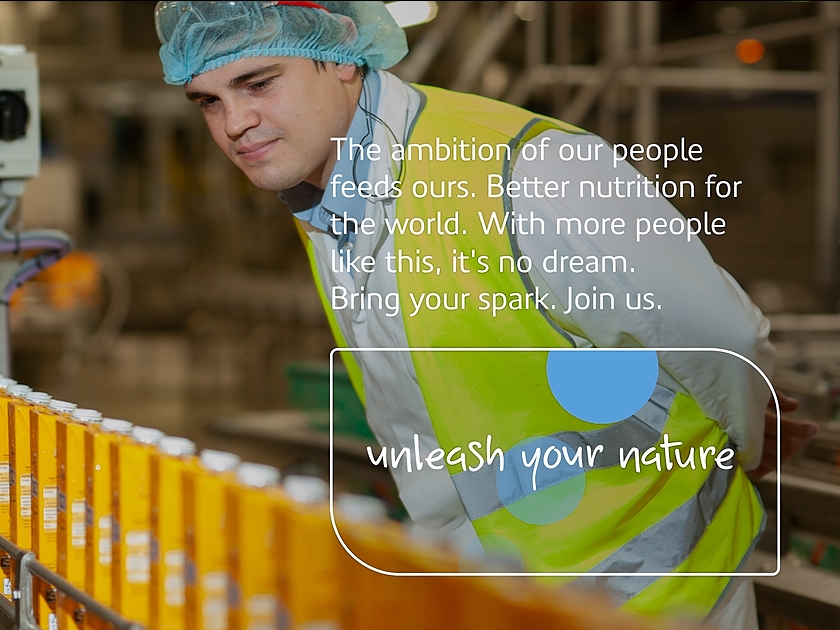 Staying true to who you really are, that is your starting point at FrieslandCampina. Because it is precisely by embracing our differences that we can grow together. We want to create a working environment that allows all employees to bring their best and authentic selves. If who we are suits you, but you're not sure if you're the best fit for the role, we still encourage you to apply so we can help you find the role that fits you best.
Benieuwd naar waar jij aan de slag zult gaan? FrieslandCampina in Lochem is een zeer veelzijdige productielocatie, omdat we hier zowel melkpoeder als boter produceert. Met de toevoer van bijna 10% van alle melk en 30% van alle room is Lochem één van de grotere melk verwerkende locaties in Nederland. Samen met een enthousiast team verwerken we deze room en melk in verschillende boterproducten, melkpoeder en gespecialiseerde melkeiwitten. Wat uiteindelijk resulteert in zo'n 100 verschillende eindproducten die de hele wereld over gaan!
JOB-ID: 49354 | Procesoperator Poeder 5 ploegen, Netherlands