Besturingstechnicus
Als Besturingstechnicus ben jij verantwoordelijk op het gebied van Software Engineering binnen de fabriek. Je draagt nieuwe ideeën voor, gericht op innovaties voor nu en in de toekomst. Je draagt ideeën aan die bijdragen aan een sneller en efficiënt lopend proces. Wanneer er contractors nodig zijn voor de installatie van nieuwe apparatuur, ben jij degene die aanstuurt en de verantwoordelijkheid over hen draagt. Een ander belangrijk onderdeel in jouw rol is het optimaliseren van onze cyber security. Tegenwoordig wordt dit een steeds belangrijker onderdeel binnen de positie van onze Software Engineers.
What we ask
We vinden het belangrijk dat je al enige ervaring hebt binnen de Software Engineering. Dit kun je hebben opgedaan binnen een ingenieursbureau of binnen een aanverwant bedrijf. Ervaring binnen de levensmiddelenindustrie is een pre. Qua opleidingsniveau zoeken wij kandidaten met minimaal een MBO niveau 4 opleiding. Dit mede omdat jij in deze positie verantwoordelijk bent voor de Software binnen de fabriek. Kennis over PLC/SCADA/MES & OEE is absoluut belangrijk in deze rol. Uiteraard staan wij ervoor open om de kennis die je niet hebt aan te bieden via cursussen. Daarnaast ben je bereid om één consignatie dienst per 5 weken te draaien.
Andere belangrijke vaardigheden voor deze functie zijn:
Pro-activiteit;
Analytisch;
Samenwerkingsgericht;
Creativiteit is ook een belangrijke factor in deze rol, omdat niet alles kan worden opgelost vanuit een proces.
What we offer
Deze functie in ingeschaald in de Zuivel CAO 8 (€ 3483,79 tot € 4166,45 o.b.v. 36uur) je salaris wordt gebaseerd op je ervaring en opleiding;
Arbeidsmarkttoeslag van 10% zoals staat omschreven in de nieuwe Zuivel CAO;
De functie is in dagdienst;
Unieke cultuur gezien FrieslandCampina Nederlandse roots heeft maar inmiddels is uitgegroeid tot een internationale organisatie met vestigingen over de hele wereld;
We bieden een prettige werk/privé balans, marktconform salaris & goede secundaire voorwaarden zoals een werkweek van 36 uur, vakantiegeld 8%, marktconform pensioen, 4% eindejaarsuitkering, flexibele werktijden;
Diverse trainingen en coaching programma's om je te helpen ontwikkelingen en jouw eigen professionele carrière uit te stippelen;
Interne doorgroei wordt sterk gemotiveerd vanuit FrieslandCampina!
Een informele & vriendelijke werkomgeving waarin je samenwerkt met gedreven en professionele collega's;
We geven je vertrouwen en autonomie om lange termijn impact te genereren dat bijdraagt aan betere voeding voor de wereld;
FrieslandCampina heeft een 'fietsplan'.
Vacancy description
Een aantal andere taken die behoren tot deze positie zijn:
Troubleshooting in geval van complexe problemen/ storingen in;
Zowel intern als extern centraal aanspreekpunt voor de fabrieks- en procesautomatisering, op de hoogte zijn van nieuwe technologieën op het gebied van proces automatisering;
Verantwoordelijk voor het formuleren, uitvoeren en monitoren van de informatie en automatisering van beleid in overeenstemming met ISA-95 niveau 1,2 & 3;
Verantwoordelijk voor de effectiviteit, het verbeteren en waarborgen van de geautomatiseerde bedrijfsprocessen;
Verantwoordelijk voor het uitvoeren en beheren van de softwareprocedures, het standaardiseren van de processen en het stimuleren van procesoptimalisatie;
Verantwoordelijk voor software change management en up-to-date houden van wijzigingen & modificaties (change control);
Deelnemen aan van projecten;
Software ondersteuning geven aan monteurs vanuit consignatie diensten.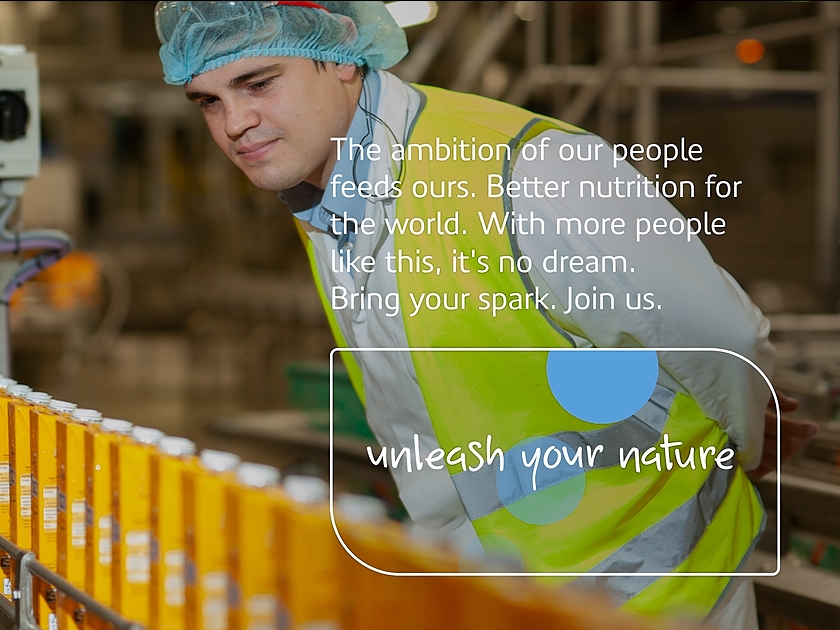 Staying true to who you really are, that is your starting point at FrieslandCampina. Because it is precisely by embracing our differences that we can grow together. We want to create a working environment that allows all employees to bring their best and authentic selves. If who we are suits you, but you're not sure if you're the best fit for the role, we still encourage you to apply so we can help you find the role that fits you best.
In de Friese stad Workum verwerken wij jaarlijks met zo'n 245 collega's 1,2 miljard kilo melk tot kaas. Daarnaast produceren wij ingrediënten voor baby-en kindervoeding. Onlangs is er flink geïnvesteerd in de locatie en zijn de melkstromen uitgebreid van twee naar vier, dit alles op een manier dat bijdraagt aan een reductie van het energieverbruik en dit zorgt ervoor dat wij klaar zijn voor de toekomst. Op onze productielocatie heerst een gemoedelijke sfeer, iedereen kent elkaar en er vinden regelmatig activiteiten plaats. We kijken er naar uit om jou te verwelkomen! Meer weten over onze locatie in Workum? Lees hier verder: https://careers.frieslandcampina.com/nl/workum
JOB-ID: 49082 | Besturingstechnicus, Netherlands