Proces Operator
Als Operator Kaasmakerij bij FrieslandCampina ben jij verantwoordelijk voor het hele proces omtrent het bereiden van Goudse kaas. Jij bedient de geautomatiseerde kaasbereidingsinstallatie, zorgt voor een juist verloop van het proces en houdt de doseringen van de benodigde producten zoals kaasmelk en zuursel nauwlettend in de gaten. Daarbij zorg jij ervoor dat er wordt voldaan aan de gestelde normen en de gegeven proces- en productspecificaties voor de kaaswrongel. Als Operator Kaasmakerij werk je in een 5 ploegendienst en ben je onderdeel van een klein hecht team waarbij veiligheid en kwaliteit belangrijk zijn!
What we ask
Vind jij het leuk om te werken met complexe installaties en wil je je verder ontwikkelen in de voedingsmiddelenindustrie? Dan zijn wij op zoek naar jou!
Wij zoeken een prettige collega op wie wij kunnen bouwen en vertrouwen.
Een open communicatie en focus op kwaliteit is daarbij erg belangrijk.
Een afgeronde technische MBO 3 / 4
Bij voorkeur opleiding richting Levensmiddelen-/procestechniek;
Heb je wel het gevraagde MBO niveau maar niet de juiste richting? We bieden ook mogelijkheden tot omscholing naar Proces Operator
Belangstelling voor technologieën/processen en je bent gemotiveerd om je kennis up-to-date te houden middels trainingen en opleidingen;
Kennis van officeprogramma's en bij voorkeur een ERP systeem zoals SAP;
Ervaring in de Zuivel,-. Food-, of Farmaceutisch Industrie
Bereid om in een vijfploegenrooster te werken, gemiddeld 33,6 uur per week
Je bent fulltime beschikbaar

What we offer
Je ontvangt een marktconform salaris conform de Zuivelcao;
Goede secundaire arbeidsvoorwaarden en pensioen regeling;
Een jaarcontract rechtstreeks bij FrieslandCampina met uitzicht op een contract voor onbepaalde tijd;
Een vijfploegendienst met een gemiddelde werkweek van 33,6 uur;
Gemiddelde toeslag 28,7%;
Als operator neem je deel aan een opleidingsprogramma (werkplekleren);
Je gaat aan de slag bij een internationaal opererend en hoog aangeschreven werkgever;
Bij FrieslandCampina krijg je de kans je te ontwikkelen;
Een uitdagende baan, geen dag is hetzelfde;
Je werkt samen met gedreven en professionele collega's.

Vacancy description
Als Operator ben je onder andere verantwoordelijk voor;
Verrichten van bedienings-, controle- en regelwerkzaamheden in de kaasmakerij;
Verzorgen van de werkzaamheden in de kaasfabriek en bedienen, in- en uit bedrijf nemen van de geautomatiseerde kaasbereidingsinstallatie;
Stellen en bijsturen van installaties voor het binnen specificaties bereiden van wrongel, het afvullen, het persen, het omlopen en inpekelen van kaas;
Zorgdragen voor en toezien op een juist procesverloop: doseringcontrole van o.a. de benodigde kaasmelk, zuursel, stremsel, wrongelwaswater;
Uitvoeren van voor het proces benodigde analyses en/of controles en treffen van corrigerende maatregelen op basis van de resultaten
Oplossen van kleine technische- en of processtoringen
Deelname aan continu verbeterteams om je kennis en ervaring te delen
Kennen en handelen naar de belangrijkste veiligheidsvoorschriften
Samenwerken en afstemmen met je collega operators
Vastleggen en rapporteren van de procesparameters in systemen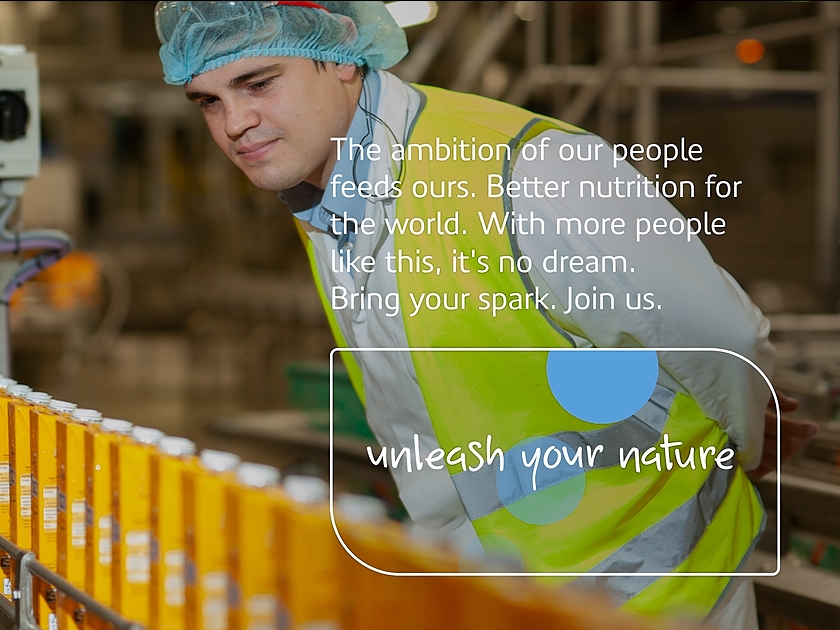 Iedere medewerker bij FrieslandCampina wil dagelijks 'meer uit melk' halen. Als Operator bij FrieslandCampina Born kan jij hier aan bijdragen. Born is één van de negen kaasproductielocaties en verwerkt jaarlijks meer dan 400 miljoen liter melk tot +/- 50.000 ton (Goudse) kaas. De kaas wordt op de afdeling productie gemaakt. Na een kort verblijf en behandeling in de fabrieksopslag, wordt de kaas verder behandeld in de Veredelingsopslag en vervolgens afgeleverd aan interne en externe klanten.
Op de locatie Born zijn circa 100 mensen werkzaam. De afdeling productie is verantwoordelijk voor de productie en opslag van Goudse kaas. Als Operator ben je werkzaam in een klein team met 7 collega's en per dienst verantwoordelijk voor de productie van kaas.
De afdeling productie wordt ondersteund door de afdelingen kwaliteit, logistiek en technische dienst. Zowel Productie als Technische Dienst werken in een volcontinu dienst 24\7.
Je komt te werken in een klein hecht leuk team, die veel voor elkaar over hebben.
JOB-ID: 48796 | Proces Operator, Netherlands