Allround Operator Production
Als Operator Procuctie verricht je bedienings-, controle-, en regelwerkzaamheden in de botermakerij. Je bent werkzaam in 5-ploegen dienst en rapporteert aan de Shiftmanager Productie. Je bent onderdeel van het team en als zodanig medeverantwoordelijk voor de ploegprestatie op het gebied van veiligheid, kwaliteit en productieoutput.
Allround Operator Production
What we ask
Je beschikt over technisch inzicht. Dit heb je nodig om 1e lijns onderhoud uit te voeren.

Je beschikt minimaal over MBO 3 werk- en denkniveau.

Opleiding en/of werkervaring gerelateerd aan techniek/ levensmiddelentechnologie of VAPRO

Je bent bereid om in 5 ploegendienst te werk, inclusief de feestdagen
What we offer
Deze functie in ingeschaald in Zuivel CAO 5 (€ 2492,56 tot € 3181,44 o.b.v. 36uur) je salaris wordt gebaseerd op je ervaring en opleiding;

Unieke cultuur gezien FrieslandCampina een Nederlandse roots heeft maar inmiddels is uitgegroeid tot een internationale organisatie met vestigingen over de hele wereld;

We bieden een prettige werk/privé balans, marktconform salaris & goede secundaire voorwaarden zoals een werkweek van 36 uur, vakantiegeld 8%, marktconform pensioen, 4% eindejaarsuitkering, flexibele werktijden;

Diverse trainingen en coaching programma's om je te helpen ontwikkelingen en jouw eigen professionele carrière uit te stippelen;

Interne doorgroei wordt sterk gemotiveerd vanuit FrieslandCampina!

Een informele & vriendelijke werkomgeving waarin je samenwerkt met gedreven en professionele collega's;

We geven je vertrouwen en autonomie om lange termijn impact te genereren dat bijdraagt aan betere voeding voor de wereld;
Vacancy description
Het ontvangen, controleren, verwerken, coördineren, afvoeren en opslaan van rauwe melk/room en secundaire stromen.

Tijdige en correcte product- en procescontroles uitvoeren volgens instructies en indien nodig bijsturen d.m.v. monsterafnames.

Je meldt complexe storingen aan de Technische Dienst (TD) en indien nodig assisteer je bij grote onderhoudswerkzaamheden.

Verrichten van administratieve werkzaamheden zoals proces- en product gerelateerde gegevens en reparaties in het onderhoudssysteem

Uitvoeren benodigde analyses en/of controles en treffen van corrigerende maatregelen op basis van de resultaten.

Signaleren en vastleggen van afwijkingen en treffen van corrigerende maatregelen met als doel binnen de gestelde specificaties te produceren.

Het reinigingen van installaties, leidingen en werkomgeving, handmatig en met behulp van een geautomatiseerde reinigingsinstallatie.

Het registreren van proces,- en product gerelateerde gegevens, het registreren van storingen in een OEE – tool en het registreren van reparaties in een onderhoudssysteem.

Naleven van de HACCP-, Hygiëne-, bedrijfs- en veiligheidsvoorschriften.

Verrichten van werkzaamheden a.d.h.v. mondelinge/ of schriftelijke instructies van de leidinggevende.

Deelnemen aan verbeterteams met als doel prestaties binnen de afdeling te verbeteren.

Bespreken van bijzonderheden/geconstateerde afwijkingen met leidinggevende volgens Daily Control Systeem.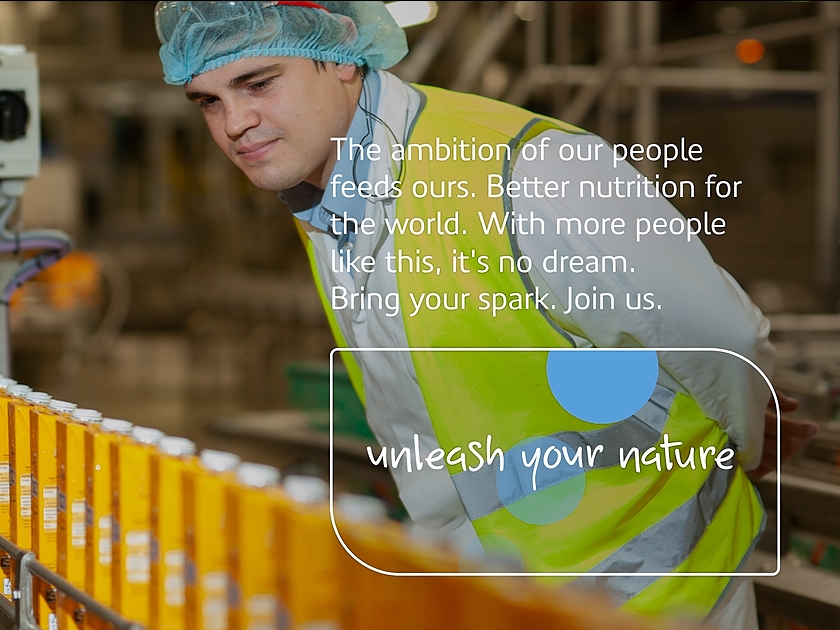 Je bent vast nieuwsgierig geworden waar jij wellicht komt te werken, daar vertellen wij je graag meer over! Den Bosch is de enige productielocatie van FrieslandCampina waar boter producten worden gemaakt. Dit zijn niet alleen de pakjes boter die je waarschijnlijk wel in de supermarkt hebt zien liggen, maar ook boterproducten voor de zakelijke markt, zoals bakkerijen en restaurants. Wellicht help jij straks wel de boter te produceren waar jouw lokale bakker zijn croissants van maakt.
JOB-ID: 48067 | Allround Operator Production, Netherlands