Logistiek Operator Voedingsmiddelen 3 Ploegen
Voel jij je helemaal thuis in de logistiek? Voor ons kaasverpakkingscentrum in Leerdam zoeken we naar logistiek operators die ervoor zorgen dat de aan- en afvoer van kaas en hulpstoffen zo veilig en efficiënt mogelijk verloopt. Dat doe je met robots, hef- en reachtrucks en natuurlijk je collega's. De fabriek draait niet zonder jou!
Logistiek Operator Voedingsmiddelen 3 Ploegen
What we ask
Je hebt ervaring als operator in een logistieke of productie-omgeving;
Je hebt ervaring als hef- of reachtruckchauffeur;
Je bent beschikbaarin de drieploegendienst (06:00 tot 14:00, 14:00 tot 22:00, 22:00 tot 06:00);
Je hebt VCA Basis of je bent bereid dit te behalen;
Kennis van SAP, EWM en scanning is een pré.
What we offer
Deze functie in ingeschaald in CAO Kaaspakhuisbedrijf schaal C (€ 2.324,48 tot € 2.548,03 per maand o.b.v. 36 uur), je salaris wordt gebaseerd op je ervaring en opleiding;

Unieke cultuur gezien FrieslandCampina een Nederlandse roots heeft maar inmiddels is uitgegroeid tot een internationale organisatie met vestigingen over de hele wereld;

We bieden een prettige werk/privé balans, marktconform salaris & goede secundaire voorwaarden;

Diverse trainingen en coaching programma's om je te helpen ontwikkelingen en jouw eigen professionele carrière uit te stippelen;

Interne doorgroei wordt sterk gemotiveerd vanuit FrieslandCampina!

Een informele & vriendelijke werkomgeving waarin je samenwerkt met gedreven en professionele collega's;

We geven je vertrouwen en autonomie om lange termijn impact te genereren dat bijdraagt aan betere voeding voor de wereld.
Vacancy description
Als operator bedien je de robots die de kazen naar de lijnen aanvoeren óf de kazen van de lijnen afhalen. Je bent er medeverantwoordelijk voor dat onze klanten de juiste kwaliteit producten ontvangen. Dit doe je door deze robots op de voorgeschreven manier te bedienen, kleine storingen op te lossen en bezig te zijn met het verbeteren van jouw robotpark. Dit alles doe je op een veilige manier en je voelt je verantwoordelijk voor de veiligheid van die van jezelf en je collega's. Je werkt in drie- of vierploegendienst in een gekoelde omgeving.
De belangrijkste taken en verantwoordelijkheden van een operator logistiek zijn:
Je werkt veilig en voelt je verantwoordelijk voor de veiligheid van jezelf en die van je collega's;
Je draagt 100% verantwoordelijkheid voor het robotpark waar je werkt. Dat is aan je te zien vanwege je betrokkenheid en voorbeeldgedrag o.a. op het gebied van veiligheid en hygiëne;
Je zorgt dat de robot zo storingsvrij mogelijk draait en bent in staat kleine storingen zelf op te lossen;
Korte stops noteer je om zo tot een oorzaak- en verbetervoorstel te komen;
Je bent verantwoordelijk voor het periodiek uitvoeren van 1e lijnonderhoud in het robotpark;
Tijdens je dienst verricht je de vastgestelde (kwaliteits-) controles op product en proces conform geldende normen en voorschriften;
Je bent verantwoordelijk voor het verrichten van aan de functie verbonden administratieve werkzaamheden;
Je draagt zorg voor een goede overdracht tussen afgaande en opkomende ploeg;
Je escaleert bij afwijkingen op veiligheid, kwaliteit en efficiency;
Je vangt werkzaamheden van collega's op als dit nodig is (bijv. tijdens pauze).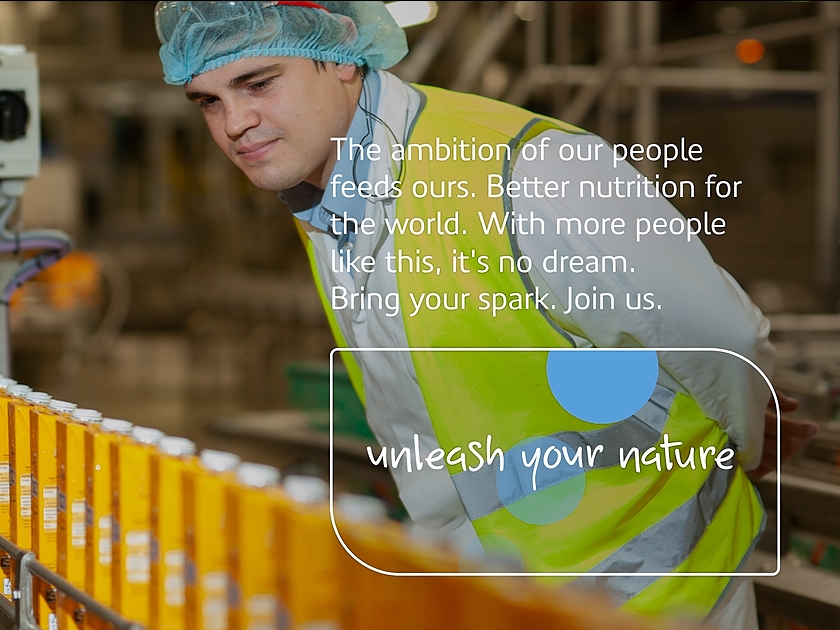 In Leerdam versnijden en verpakken wij met trots verschillende typen Nederlandse kazen, van kiloblokken tot Edam ballen en Goudse wielen. Onder merken zoals Frico, Old Rotterdam en Milner gaan deze kwaliteitsproducten de hele wereld over. Vandaag de dag werken wij met zo'n 400 medewerkers uit ruim 30 landen veelal in ploegendiensten samen om iedereen te laten genieten van onze heerlijke producten. Door veiligheid te waarborgen en altijd kwaliteit na te streven, zorgen wij ervoor dat wij nog heel lang waarde zullen creëren voor onze klanten én medewerkers. Wil je meer weten over onze locatie in Leerdam? Klik hier om meer te lezen: Sfeerimpressie Leerdam
Trouw blijven aan wie je echt bent, dat is jouw startpunt bij FrieslandCampina. Want juist door onze verschillen te omarmen, kunnen we samen groeien. We willen een werkomgeving creëren die alle medewerkers hun beste en meest authentieke zelf laat zijn. Als wij bij jou passen, maar je niet zeker weet of jij helemaal bij de rol past, moedigen we je nog steeds aan om te solliciteren zodat we je kunnen helpen om de rol te vinden die het beste bij jou past.
JOB-ID: 46553 | Logistiek Operator Voedingsmiddelen 3 Ploegen, Netherlands