Allround Operator Packaging
Bij Dutch Nutrition te Zwolle hebben wij een functie beschikbaar als Allround Operator. Heb jij proceservaring en krijg jij energie van het productieproces optimaal te laten verlopen? Ben jij enthousiast, initiatiefrijk, nauwkeurig en flexibel? Staat veiligheid en kwaliteit op nummer 1 bij jou? Dan ben je bij het juiste adres!
Allround Operator Packaging
What we ask
Minimaal mbo-niveau 3;

Een afgeronde opleiding richting levensmiddelentechnologie of soortgelijke opleiding;

Ervaring met geautomatiseerde productieprocessen in de voedingsmiddelenindustrie, bij voorkeur het mengen en verpakken van babyvoeding

Kennis van administratieve systemen als SAP;

Goede communicatieve vaardigheden

Technisch inzicht;

Een hef- en/of reachtruckcertificaat is een pré.
What we offer
Deze functie in ingeschaald in Zuivel CAO 5 (€

2492,56

tot €

3181,44

o.b.v. 36uur) je salaris wordt gebaseerd op je ervaring en opleiding;

Het betreft een 2 ploegendienst van maandag tot en met vrijdag;

Unieke cultuur gezien FrieslandCampina een Nederlandse roots heeft maar inmiddels is uitgegroeid tot een internationale organisatie met vestigingen over de hele wereld;

We bieden een prettige werk/privé balans, marktconform salaris & goede secundaire voorwaarden zoals een werkweek van 36 uur, vakantiegeld 8%, marktconform pensioen, 4% eindejaarsuitkering, flexibele werktijden;

Diverse trainingen en coaching programma's om je te helpen ontwikkelingen en jouw eigen professionele carrière uit te stippelen;

Interne doorgroei wordt sterk gemotiveerd vanuit FrieslandCampina!

Een informele & vriendelijke werkomgeving waarin je samenwerkt met gedreven en professionele collega's;

We geven je vertrouwen en autonomie om lange termijn impact te genereren dat bijdraagt aan betere voeding voor de wereld;
Vacancy description
Als Allround Operator ben jij verantwoordelijk voor het efficiënt en veilig laten verlopen van jouw deel van het proces. Je monitort het productieproces en grijpt tijdig in om storingen of andere problemen te voorkomen of op te lossen. Je werkt nauw samen met je collega's, om samen te zorgen voor een efficiënt productieproces. Hierbij ben je bewust van de kwaliteit en de hoge graad van hygiëne die nodig is om op een verantwoorde manier babyvoeding te produceren.
Jouw taken zullen o.a. bestaan uit:
Het procesverloop bewaken en kwaliteitscontroles uitvoeren;

Reinigen en desinfectie van proces en productieomgeving

Het aangeven van knelpunten in het verpakkingsproces;

Deelnemen aan verbeterprojecten (o.a. Lean / kwaliteit / Veiligheid);

Volgen van de opleidingen die noodzakelijk zijn voor de invulling van de functie;

Het begeleiden van collega's en andere medewerkers;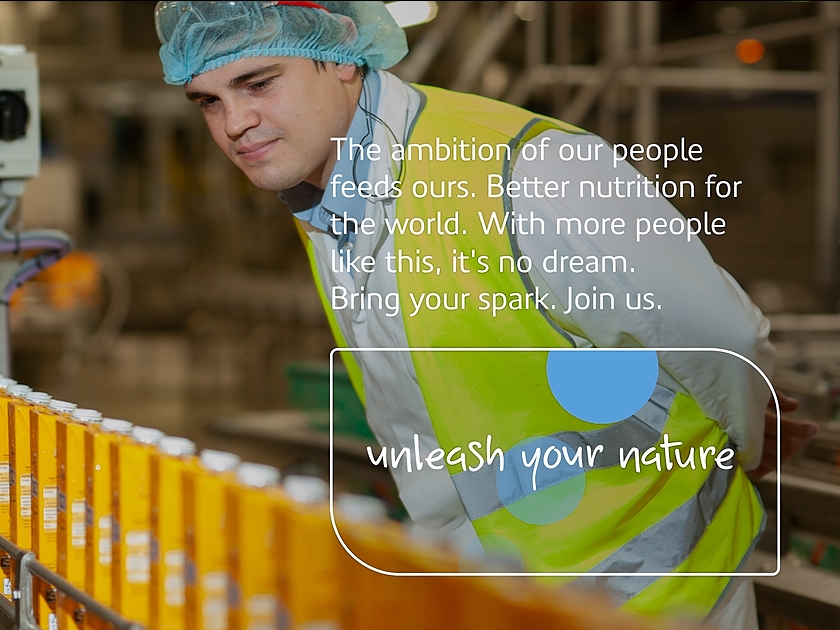 Dutch Nutrition in Zwolle is sinds 2020 onderdeel van FrieslandCampina. In deze fabriek maken we formules en ingrediënten voor voedingsmiddelen voor alle levensfasen, van baby's tot ouderen. De fabriek telt 60 medewerkers. Omdat het een kleine fabriek is, zul je hier meer verschillende taken hebben dan bij een grotere fabriek. Omdat de vraag naar onze producten steeds groter wordt, groeit onze fabriek in Zwolle. Groei jij met ons mee?
JOB-ID: 46528 | Allround Operator Packaging, Netherlands